We've been to Disneyland Paris (EuroDisney) five times in the past six years, it's most probably one of our favourite place in the world. I heart Disney! I've also been to Disneyland in California, a whole other world but that's another day's tale. I'd like to think we have a bit of experience when it comes to Disneyland so I've compiled a list of some Disneyland Paris tips and tricks (updated December 2019) to help you save some pennies, beat the queues, get there for the cheapest price possible and make your stay a little more enjoyable!a
Disneyland Paris Tips and Tricks
Single riders – Selected attractions now offer a 'riding alone' option. It allows you to ride sooner by filling up empty seats and anyone can do it.
Bring a lunch-box – Save yourself a fortune! Stock up on bread rolls, pastries and fruit for lunch in the parks during your hotel breakfast. Meals are ridiculously expensive. Save your money for your evening meals.
Always queue to the left – Call me crazy or whatever but if a queue line is split into two ALWAYS choose the left lane. Most people are right-handed and naturally, gravitate towards the right.
Bring loads of treats – Sweets are way overpriced. A small pack could set you back a fiver. Pick up some treats in Dealz or the Pound Shop before you go. Make snack packs. Bring croissants, brioche rolls and pancakes from Aldi. It will save you a fortune. For brownie points try to get some with Disney characters on them too.
Stroller – You can rent strollers at Disney for €25 daily but it will add up during the course of your stay. Bring a stroller for young kids especially if your kids are in preschool or younger, there is a lot of walking in Disney and they will tire really quick. It's been known for buggies to go missing in Disney believe it or not so bring a lock to be on the safe side. A sling or baby carrier is also handy for waiting in queues.
Shop smart – Disney shops are mayhem in the evenings. Rather than fighting your way through the crowds' shop before 4 pm and have them delivered to your Disney Hotel free of charge.
Coffee – Looking for a decent cuppa? Then head to Starbucks or McDonald's in Disney Village. I'm sorry but coffee in both of the parks is muck and extremely overpriced!
Download the Disneyland Paris app – Keep up to date, an invaluable app before and during your stay!
Pre-book character meals – Character meals book out days in advance, during busier periods it can be weeks. I highly recommend pre-booking character meals so you can guarantee a table.
Baby switch – A brilliant facility if you have young children with you. Parents can ride in turn without having to queue up twice.
Bring a water bottle – For obvious reasons. There is plenty of fountains to refill it throughout the parks. Also if you choose to get fizzy drinks in the park get a refill cup, it will save you a fortune in the long run.  Bring one of those small Robinsons or Mi Wadi miniature diluted things too to add some flavour to your water.
Apartments – If you need apartment-style accommodation for whatever reason, check out Val d'Europe, it's off-site but within walking distance of the parks.
Annual Pass – If you are staying and visiting for 4 days or more it may work out more beneficial to purchase an annual pass. We bought 5 Magic Plus annual passes in November 2019 for €1195 (buy 4 get 1 free. With passes you receive numerous discounts and perks throughout the park.
Christmas – Personally, Christmas time is my favourite time to visit Disneyland Paris, the lights and decorations are out of this world and you get to see Santa. It's a win-win! However, you will need thermals, rain gear, hats and gloves. Winter at Disney is extremely cold! Sew a piece of string onto your kids gloves and fish it through their sleeves so they can't lose them.
Pregnant – If you are expecting a baby bring along your hospital notes and booking card or a letter from your GP. You can avail of a pregnancy fast past which allows you to skip queues that are safe and suitable for pregnant women. Bring your documentation to the Town Hall inside the main gates of Disneyland Park.
Lineberty is an app you need to Download before arrival. Most meet and greets with characters throughout Disneyland and Walt Disney are done through this app.
Exclusive park hours – If you're staying in a Disney Hotel you can avail of 'extra park hours'. You can enter the park earlier than everyone else (8-10am). The days and parks vary throughout the year so always check with your hotel reception. Annual pass holders can also avail of these special hours.
Fast pass – Scan your park ticket at fast pass machines available at some of the most popular attractions. Save loads of time by retrieving a return time slot.
Rain Coat – Correct me if I'm wrong but poncho's in the parks cost almost a tenner. They're very flimsy and you will be lucky to get a day out of one. Bring proper raincoats for everyone especially if your travelling in Autumn/Winter.
Bring spare's – Bring plenty of batteries, a spare SD card for your camera and European plug adaptors/converters. You don't even want to know how much they cost at Disney.
Selfie sticks – Selfie sticks are banned in both parks. Security is tighter than ever now at Disney and everyone is wanded with a metal detector before entry to the parks so it's best to just leave it at home.
Character Costumes – Does your kid like to play dress up? Bring their favourite Disney character costumes with you. A Disney outfit will set you back at least fifty quid at Disneyland. Also, I have noticed kids in costumes get more attention from cast members.
Artificial ice-skating – Looking to fill up one of the evenings during winter? You should definitely try artificial ice skating outside Disney New York Hotel. It's an experience and a half. My five-year-old spent two hours on the 'ice' and still talks about it to this day.
Download the app 'Wait Times Disneyland Paris' – Available on both iPhone and Android, it displays attraction wait times, it's another invaluable app for checking what rides to get on next.
Eat at unusual times – Try to avoid usual lunch and dinner times. For example, you could be queuing up for lunch at 1 pm for a good half hour. Time in Disney is precious, eat earlier or bring a snack to keep you going until after the rush.
Plan ahead – Pick up park the programme and guide and study them. They will be your bible. It's the only way to keep up to date on character appearances and the likes. You can even look up parade times, shows etc. before you travel. All maps and timetables are on the website.
Try to avoid school holidays – When booking your trip to Disney try to avoid booking your trip when Irish, UK and French schools are off. The parks do be mayhem when schools are closed in my experience.
Disney Dreams – Do not miss it! A spectacular show complete with hundreds of fireworks at park closing. Stakeout at least thirty minutes before it begins and try to get as close to Le Château de la Belle au Bois Dormant as possible. It's the best spot in my opinion. No big heads in your way and the kids will be able to see everything high and low.
Daily Parades – Another not to be missed! There are several parades throughout the day in Disneyland. Grab a map for times and try to watch it from the start. This way you don't have too long to wait and can head off to the park rides while most people are still watching/waiting for the parade.
Crush Coaster – Without a doubt my daughters favourite ride, it's awesome! Anyways, there's a game available through free wi-fi in the queue for this attraction. It will help speed up the waiting times by keeping small ones occupied.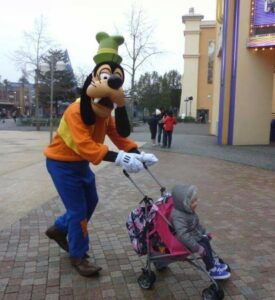 Autograph books and pens – Unless you fancy paying a tenner for an autograph book and €4 for a character pen, pick up a Disney diary and pen before you travel.
If you're a cloth bum mum like me reusable swim nappies are not allowed. Pick up some disposables in Aldi or Lidl before you travel.
Meet & Greet a Disney Princess – Disney Princesses take shifts so it's pot luck who you will get to meet on the day. Arrive early, if anything run at 10 am when the gates open to the Princess Pavilion and book a time to see a Princess. The queue in the morning can be up to an hour long and it's the only way you will get to meet a princess.
Don't forget to apply for your FREE EHIC card six weeks prior to travelling.
Disney Hotel Character Meet & Greet – Some Disney Hotel host meet and greet with Disney characters in the morning so always ask at your hotel reception. It will be your quickest meet and greet queue during your stay at Disney.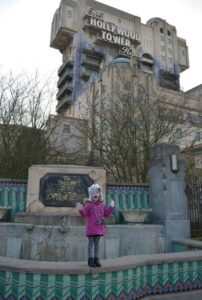 Height restrictions – There are height restrictions on all thrill rides. If your child is taller than 102cms (40 inches) they will be good to go on all rides except Rock 'n' Roller Coaster, Space Mountain, Autopia (to drive), Indiana Jones and The Temple of Peril which you need to be taller. The maximum height restrictions are 140cms.
Bring lots of premade snack packs to pull from your bag when in queues for shows/performances/rides. I filled ziplock bags with a biscuit, lollipop, bag of jellies and some crisps. It was so handy and saved me an absolute fortune.
Make time for Disney Village – Disney Village can be just as fun as the parks. We spent three hours during bad weather strolling through the stores. Kids can play in the Lego Store, they can make lightsabers and Toy Story Potato heads in another and not forgetting 'Croc' outside our favourite restaurant Rainforest Cafe. My kid could stand there and watch him for days. Oh and there's a Mc Donalds if you're on a budget. Anne's Dinner and Rainforest Cafe are two of our favourite restaurants in Disney Village.
Miserable weather – Every morning before we venture out to the parks I Google the local weather. If it's forecast to rain head to Walt Disney Studios and catch all the shows. We have seen them all on our last visit (it rained and rained and rained!). Lilo and Stitch is a firm favourite here.
Bring medication like paracetamol, Calpol etc. the nearest chemist is roughly €50 away in a taxi (return) or one stop away on the train from Disney Village.
Parent to child ratio's apply on certain rides. Keep than in mind especially if you have a large family. Before queuing as one of the stewards at the attraction entrance.
Food shop – there is a garage beside the Santa Fe Hotel and there is a shop inside the train station outside Disney Village otherwise bring food with you or travel by train to the nearest shopping centre.
Green Pass Bring a letter from your GP dated in the last three months if your child has additional needs to get a disability pass. A green pass allows the holder and up to 4 people to avail of shorter queues ot get a time to return meaning no waiting around.
Arrive 10-15 minutes before all shows or performances to guarantee a seat or good standing spot especially for popular shows.
If you are travelling to Disneyland Paris make sure you ring ahead with whoever you are flying with whoever you're flying with and make sure you are sitting with your kids. Our KK was almost driving the plane home with where they wanted her to sit on our return. Of all the kids they could have picked too.
Need more advice about Disneyland? – Check out these Facebook groups full to the brim of Eurodisney experts.
Getting to Disneyland – BOOK EVERYTHING YOURSELF. Book your flights with whatever airline is the cheapest to Charles De Gaulle in Paris. Aer Lingus usually have sales in January, March and September. Compare both French and German Disneyland websites for accommodation, return transfers and park tickets. Use Google translate to translate everything into English for you. When you find the right price ring the number given to you at the end. If you are not fluent in French or German just tap all the number prompted until you get through to someone (unless someone reading this can give me the exact numbers to get through to sales) and request the French or German deal. You will pay a 20% deposit and then organise a direct debit for the remaining balance to be paid six weeks before you travel. We've used Magical Shuttle for our airport transfers to and from Disney in the past but now that our family has grown we used Prestige Transfers costing €140 return including two carseats and three highback booster seats. Both services operate 7 days a week, drop you directly to your hotel and runs from both Charles De Gaulle and Orly airport. We have only flown into CDG.
Our favourite Hotel – We've stayed in New York, the Sequoia Lodge twice and the Explorers Hotel twice.
The Explorers Hotel is extremely family friendly and by far our favourite, it has a host of activities for the kids in the evening and the atmosphere is unbelievable, all the kids were in their element. It has an aquapark that opens until 11 pm, an indoor pirate ship play area, a large two-story soft play centre that was refurbished in December 2017, a children's fitness suite (gym), three restaurants, an outdoor pirate ship playground, 6D cinema (€5 p/p) and a gaming room.
It is not walking distance to Disneyland or Walt Disney Studios. You will need to get a free bus outside your hotel which takes around ten minutes.
When staying in onsite Disney Hotels you will receive extra park hours meaning you can enter the parks for an hour before they open to the public and ride the most popular rides without the queues (not all rides are open). While that sounds amazing it means you will need to be up at about 6 am to get ready, have breakfast and get there to avail of the extra park hours. In the Explorers, you do not get extra park hours – please bare that in mind.