Puglia, Italy in the summer is a magical place full of life, food, and activities. It's the perfect time of year to enjoy the wind in your hair driving down a country road through Puglia.
Stopping at a tiny restaurant, spending the afternoon sipping coffee and nibbling on pastries and pasta. Then after your grand day out return to a luxury villa where you can feel like the celebrity that you are.
This summer, holiday villas in Puglia are available and better than ever! Relax by your own private pool, lounge in bed while enjoying the view of the sea, or have a dinner party for all your friends cooked by your personal private chef. All these options are available and can be arranged by the villa staff. The only thing that is missing is you!
Small Towns With Character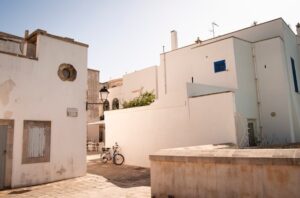 Let's face it, some small towns are just sad and lack the nostalgic character. Even though they have the safe small-town feel they are not places you want to spend time. In Italy that does not exist. Italy has a lot of charming small towns. However, those in Puglia are top-tier with a fresh mix of Mediterranean sights and sounds and ultra-picturesque surroundings only ever seen in movies. These small towns are places to spend your time.
Cisternino in the Itria Valley has narrow streets and beautiful houses surrounded by nature. The old town has been unchanged for hundreds of years.
Ostuni is a perfectly cute little village placed strategically atop a hill surrounded by olive and orange groves. It's known as La Città Bianca for its whitewashed buildings.
Polignano a Mare is a town on the coast perched high above the crystal clear waters of the Adriatic sea, clinging to the limestone cliffs. These towns are a testament to Italy's rich cultural heritage.
Only in Puglia
Trulli. The traditional stone structures are made from limestone. Many are hundreds of years old. They have a cone-shaped roof, and can be found scattered across the Itria Valley in the centre of the region. You might think you're in a fairytale village.
When you visit the town of Alberobello, you'll find one thousand five hundred of these Trulli still grouped together to create the beehive town. It is a UNESCO World Heritage Site with these Trulli dating to the fifteenth century. It's also a great place to avoid crowds of tourists and explore the picturesque countryside.
The Nature
Gargano National Park, often referred to as the green lung of Puglia, is a pristine swathe of government-protected land and sea, stretching over one hundred thousand hectares. It's a must-visit destination to explore on a beautiful summer day. Take in the beauty of the ancient forests while walking the trails, and discover islands, beaches, quiet medieval towns, and important historical sites. With so much to explore, one could easily spend a week in this unexplored oasis. Don't miss out on the opportunity to visit Gargano National Park this summer!
Less Is More
When visiting Italy, doing the standard sightseeing is a bucket list requirement. Tuscany, Venice, Rome and Milan are all must visits at least once in a lifetime. However, the crowds and the cost can get quite annoying the more time one spends there. Puglia is the summer destination for Italians. The beaches in August are on everyone's list. However tourism hasn't quite made it to the east coast as much. Far fewer foreign visitors will be here which will make strolling the streets without fighting through the tour groups all the more relaxing. The prices are also more reasonable than that in the capital or the hot spots of the west coast. These are real people who live here and will be happy to have you practise your Italian on them. It may be a requirement, as not as many people speak fluent English.
People Matter The Most
Things just move at a slower pace in the south, that seems to be true in many countries. But the locals here will always make time for you. The warmth and kindness of the people in this region will stick with you for a lifetime. The welcoming hosts that introduce you to their friends, people you meet on the street or next to you at a bar, it's like you've known them your whole life. The vendors who are happy to take photos with you and give out free samples. The tour guides who share this culture with such boiling enthusiasm and passion, it's this attitude that makes it extra special here. These people truly enjoy their life and that feeling is contagious.