Decorating a nursery can be a fun and exciting task, and adding some floral elements can bring a touch of nature and beauty to the space. From wall decals and canvases to bedding and window treatments, there are many ways to incorporate floral designs into a nursery. In this article, we will provide 15 best floral nursery decor ideas, along with some tips and images to help you create the perfect space for your little one.
15 Floral Nursery Decor Ideas:
1. Wall decals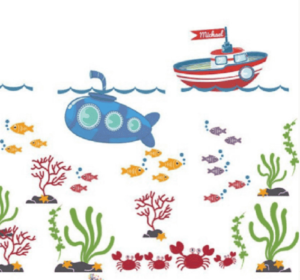 Wall decals are a great way to add some color and fun to a nursery without committing to a full paint job. You can find floral wall decals in a variety of sizes and colors to match your decor. One of my favorite nursery wall decals is the ocean and floral wall decal from walldecalsource.com. It's a combination of ocean features and aquatic floral elements in different colors which makes it a standing wall piece for girl's nurseries.
2. Canvas art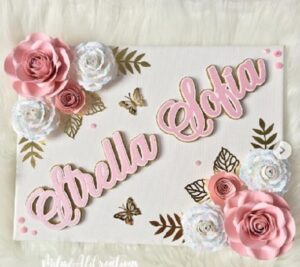 Hang a few canvases featuring pretty floral prints to add a touch of nature to the room. You can find affordable options at many home decor stores or online. This is one of the best ways of welcoming your baby home with these adorable watercolor floral canvas art. It's easy to find an extensive collection of floral wall art prints for boys or girls in different styles, colors and options. This beautiful floral canvas art posted by Milly_alicreations on Instagram features a perfect blend of white, pink and gold colors making it perfect for a baby girl.
3. Floral nursery Wallpapers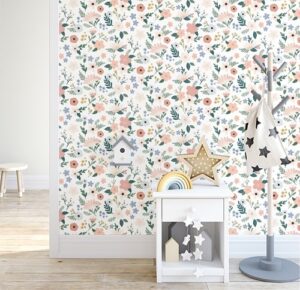 Floral nursery wallpaper peel and stick option can be a great way to add a variety of colors and a touch of nature to a nursery. There are many different styles of floral wallpapers to choose from, such as vintage-inspired prints, modern designs, and whimsical illustrations. You can use wallpaper to cover an entire wall or just use it to create a feature wall behind the crib or changing table. This floral wallpaper idea can be a complete revamp to bring fresh beauty in your nursery.
4. Floral Books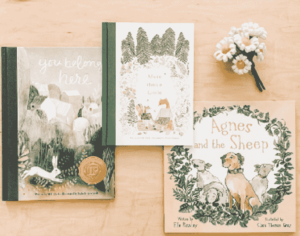 Children's books with illustrations of flowers and plants can be a fun and educational way to introduce your child to the natural world. They can also add a touch of charm to a bookshelf or reading nook in the nursery. There's a way you can arrange these floral books in your nursery to make them a perfect addition to your nursery décor.
5. Floral Wall Stencils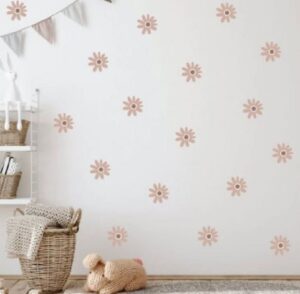 Another way to incorporate floral patterns into a nursery is to use wall stencils. You can use these stencils to paint a floral design directly onto the wall, or use it to accent existing wallpaper or paint. These can be an easy way to add a personalized touch to the room.
6. Floral Fabric bunting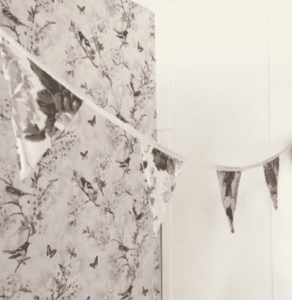 Create a whimsical look by hanging fabric bunting with a floral pattern across the walls or above the crib. Bunting can be anything from festive decorations to paper, plastics, or cardboard made using different types of materials, colors, and style. A combination of vintage fabric bunting and a great nursery wallpaper as shown by sewsarahdon on instagram can make a lovely gift to welcome the baby.
7. Floral nursery bedding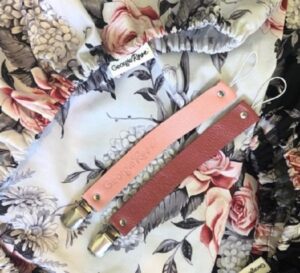 Dress up the crib with bedding featuring a floral print. You can find crib sheets, blankets, and even crib skirts with a variety of floral patterns to choose from. You can use a simple fitted sheet to make the whole bed naturally beautiful. There's no limit to this meaning that you can pick any type of floral sheet and match it to the theme of your nursery at any stage of growth. This bassinet sheet in rose is a perfect addition to your nursery.
8. Floral window treatments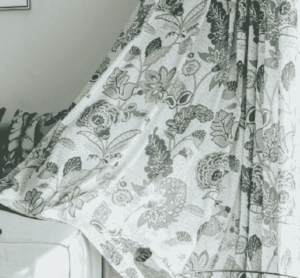 Hang floral curtains or valances to add a pop of color and pattern to the windows. Besides creating a napping environment by blocking the light outside, the curtains can be used as a décor point to add floral feel to your nursery. The green leaf curtains are nice fabrics with beautiful floral patterns and they can easily suit any nursery or baby room.
9. Floral rugs for nursery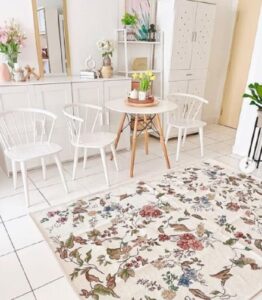 A rug with a floral pattern can be a great way to add some warmth and texture to the nursery floor. Floral rugs have a lot of benefits. The first benefit is that you don't want your footsteps to wake up the baby after putting the kid to sleep in the crib. Secondly, you want the baby's room to look as naturally beautiful as possible. It is one of the best American style floral rugs. This design idea will help you get an insight into floral rugs for the nursery.
10. Floral lampshades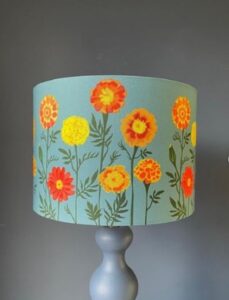 Switch out solid color lampshades for ones with a floral pattern to add some visual interest to the room. It is actually the best way of lighting up the nursery with true floral fashion. The design brings some cheerful moments to the room and adds to the entire floral nursery decorations.
11. Floral pillows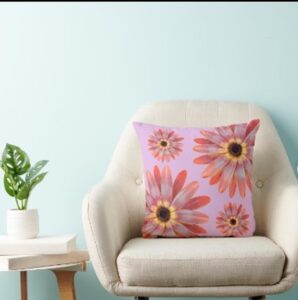 Add some comfort and style to the nursery with throw pillows featuring a floral pattern. Pick a floral pillow printed using high color density to make sure it brings the precision in the flowers.
12. Floral wall art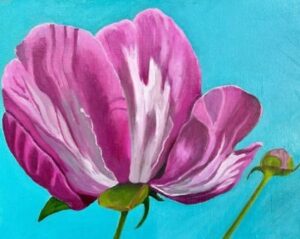 Hang a few pieces of wall art with a floral theme to add some visual interest to the walls. Floral wall art such as this beautiful framed faux flower wall is the best addition in a kids' room décor. You can choose to mix and match your floral for the best looks. This design idea can help inspire you to add these floral patterns in your nursery room.
13. Floral throw blanket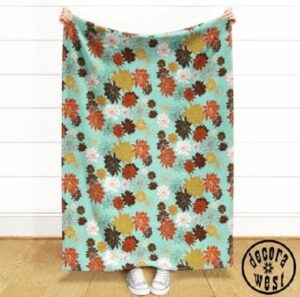 Drape a throw blanket with a floral pattern over the rocking chair or a corner of the room for a cozy touch. This boho floral throw blanket with the gorgeous design will add beautiful looks in the nursery.
14. Floral Baskets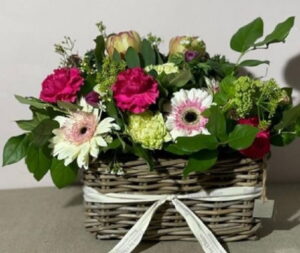 Woven baskets in floral patterns can be a great way to add texture and a natural element to a nursery. You can use them to store items like stuffed animal toys, books, or simply use them as decor.
FAQs
What is the best way to decorate a nursery?
Decorating a nursery can be a fun and exciting task, and there are many different ways to approach it. Some popular options include using a specific theme, such as a jungle or a nautical theme, or choosing colors that are calming and soothing. Another option is to use a mix of patterns and textures to add interest to the space. Consider using wall decals, a statement wall, or a gallery wall. You can also incorporate functional items, like a rocking chair or a bookshelf, into the decor.
What is the most popular nursery theme?
Some of the most popular nursery themes include animals, such as woodland creatures or safari animals, flowers, as well as whimsical themes like unicorns, rainbows, and dinosaurs. Another popular theme is a more gender-neutral theme like a moon and star or a modern geometric design theme.
How can I decorate my nursery for cheap?
Decorating a nursery on a budget can be done by being creative with your choices. For example, you can shop for furniture secondhand or repurpose items you already have. You can also use paint or removable wallpaper to update the nursery, or use fabric to create a DIY window valance or bed canopy. Also, instead of buying everything new, you can use hand-me-down items from friends or family, or do DIY art projects or other DIY projects to decorate your nursery.
What is the most important item in the nursery?
The most important item in the nursery will depend on the specific needs and preferences of your family. A comfortable crib with a firm mattress and a well-fitting crib sheet is an essential item for a baby to sleep in. Wallpapers for nursery décor can equally be important. A changing table, with a comfortable pad and storage for supplies, can also be very useful. A rocking chair or glider is another useful piece of furniture for feedings and soothing. But the most important thing is that the room should be comfortable, well-ventilated and safe for a new born.
Overall, the key to decorating a nursery is to create a space that is comfortable and functional, as well as visually appealing. And don't forget to personalize the space with items that are meaningful to you and your family. The ideas we have explained above will give you some insights to make your nursery as attractive and functional as possible.