While there are many great travel videos out there, sometimes they can all seem a bit the same. In this post, we'll look at how you can make your travel videos stand out from the rest by using different techniques easily. So whether you're just starting out with video or looking to up your game, read on for some tips! Anyone can edit videos easily with the latest tech in the market. 
Travel vlogs have become extremely popular in recent years as more and more people love to document their travels and share their experiences with the world. There are many reasons why travel vlogging has become so popular, and it is easy to see why this trend is here to stay. Travel vlogs offer a unique and personal way to document one's travels. Unlike traditional travel writing or photography, vloggers can provide an intimate look at their experiences, allowing viewers to feel as though they are right there with them. 
This is especially appealing to those who are interested in learning about new cultures or seeing the world from a different perspective. Even Travel vloggers often have a relaxed and natural style that makes them easy to watch and enjoyable to follow. This is in contrast to many traditional travel documentaries or shows, which can often feel staged or scripted. 
How To Create Travel Videos Easily?
In this digital age, almost everyone is a filmmaker. And while some people may think that making a travel video is difficult, it's actually quite easy. All you need is a camera, some basic editing skills, and a little bit of creativity. Here are some tips on how to create travel videos that will inspire others to explore the world.
Read more: Walking On The Wild Side At Tenby Dinosaur Park, Wales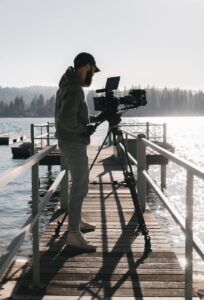 First, choose an interesting destination and make sure to get plenty of footage of the sights and sounds. Include interviews with locals to give viewers a sense of the culture. And don't forget to capture those special moments, like sunsets and rainstorms. Second, edit your footage carefully. Nowadays, many editors are available to make videos from images. You can use picture video maker if you want to include some cool photos in your videos. Choose music that sets the mood and add graphics or effects to make your video really pop. 
5 Tips To Create Amazing Videos Easily 
Nobody likes to watch boring content over the internet. A good story can make or break a travel video. While pictures and footage of scenic locations are important, it is the story that really brings the video to life and makes it memorable. Without a strong narrative, a travel video can quickly become tedious and boring. Therefore, it is essential to spend some time developing a storyline before starting to film. 
This doesn't mean that the story has to be overly complicated or intricate – often, the simplest stories are the most effective. The key is to focus on creating a sense of cohesion and flow, so that the viewer feels like they are on a journey with a purpose. With a little effort, crafting a well-told story will take your travel videos from good to great.
Any good travel video needs proper editing in order to be successful. Editing is important for several reasons. First, it helps to create a cohesive story. A well-edited travel video will take the viewer on a journey from start to finish. It will also highlight the most important moments and experiences while still maintaining a sense of realism. 
Editing can help to improve the overall quality of the footage. You can use YouTube templates to make eye-catching videos while editing. By cutting out unwanted scenes and using special effects, editors can make even the most amateur footage look professional. Even editing is essential for creating a video that is the right length. Too long and the viewer will lose interest; too short and the video will feel unfinished. With so much riding on proper editing, it's no wonder that many travel filmmakers hire professionals but that isn't necessary at all.
Many people believe that a good camera is essential for making travel videos. After all, isn't the whole point of a vacation to capture amazing footage that can be shared with friends and family? While it's true that a high-quality camera can help you take beautiful videos, it's not the only factor that determines the quality of your travel videos. In fact, there are many other factors that are just as important, if not more so. For example, composition and editing are two crucial aspects of any video, and they have nothing to do with the camera itself. Simply put, a good camera is not the be-all and end-all of travel videography; it's just one piece of the puzzle.
When it comes to travel videos, there are a few things to keep in mind in order to make sure your content is engaging and visually interesting. First, it's important to diversify your shots. This means including various types of footage; you can use many shots at once by using collage templates, from aerial shots to close-ups. You'll also want to mix up the pacing, alternating between faster-paced montages and slower, more reflective scenes. Finally, be sure to capture the feeling of the place you're visiting by including sounds and music that evoke the atmosphere of your destination. By following these tips, you can ensure that your travel videos are both informative and enjoyable to watch.
If your viewers don't feel connected to you, they're not going to want to watch your videos. One of the best ways to connect with your audience is to show them who you are as a person. Share your stories, your passions, and your experiences. Let them see the real you, and they'll be more likely to connect with you on a personal level. In addition, make sure to connect with your audience on an emotional level. Show them that you understand their feelings and experiences. 
Conclusion 
As you can see, there are a lot of elements that go into making an amazing travel video. By following these tips, you will be well on your way to creating videos that will inspire wanderlust in all who watch them. So get out there and start filming your next great adventure!